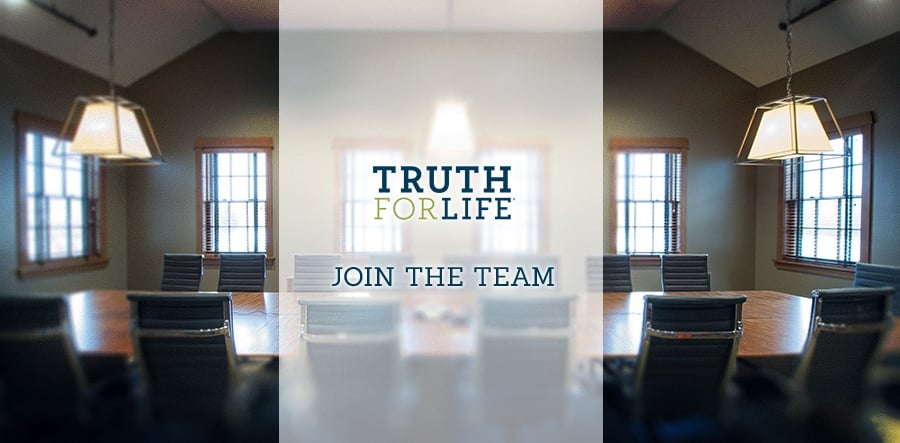 Are you interested in applying your professional skills in Christian ministry?  
Truth For Life reaches a global audience with the Bible teaching of Alistair Begg every day of the year. A seasoned staff of professionals with diverse skills and backgrounds is essential to making that happen! 
High energy, fast-paced, and accelerated growth mark the positive, collaborative working environment of our organization. One team, unified and passionate about proclaiming the good news of the Gospel, drives the culture at Truth For Life. Committed to excellence, we distribute Alistair Begg's teaching through more than 1,800 radio networks, the Truth For Life website, mobile app, social media channels, subscription TV services, and automated listening devices.   
If you're looking for the opportunity to be challenged professionally and contribute substantially, Truth For Life routinely seeks experienced candidates with skills in audio and video production, marketing and communications, information technology, web and mobile app programming, customer service, radio station relations, project management, content writing, and other professional disciplines. 
Operating as a high-performing non-profit organization, Truth For Life adopts for-profit business management principals to drive performance excellence and growth. Our organization offers a professional pay scale and a corresponding benefits package. 
So, if you're seeking a position where you'll work alongside a team of fellow believers (see our team) in a way that leverages your professional skills and experience, please subscribe to Truth For Life's job postings or apply for the following positions:     
---
Parkside Church Residency
This is a one-year position working with Parkside Church.
Parkside Church has a year-long residency program for those finishing college or seminary who are pursuing the call to pastoral ministry. It's a good opportunity to discern the call to pastoral ministry by learning from Parkside's pastoral team, to gain experience teaching the Bible, and a place to engage in the care and leadership of local church life. If you have interest, you can find out more or apply by clicking the link below:
This position will remain posted until filled. Please email questions to: Residency Administration.
---
Database Administrator and Developer (Full-time)
Mission
To create, maintain and update existing databases, procedures, reports and other ETL processes for Truth For Life with a specific focus on security, stability, scalability and reportability, while supporting the overall ministry mission and commitment to excellence.
Outcomes
Maintain donor management and other ancillary databases
Extensively grow the quantity and quality of reporting on donor and other ancillary data sources for the benefit of business decisions
Document the current database environment, suggesting, planning and executing improvements as needed to meet RTO and RPO requirements as well as capacity planning and uptime
Act as first-level support for user issues surrounding our donor management system and data questions/issues
Work with web development team in designing next-generation data environment for online integration of services for the benefit of Truth For Life listeners
Execute, update and improve existing ETL and other recurring processes with donor management system
Assist in any needed data migrations or the on-boarding of additional databases or services where data needs to be loaded
Migration of existing process code to version control system
Initiate and actively engage topics of ongoing learning (books, courses)
Competencies
Integrity: Steadfast commitment to biblical principles for living and working
Passion: Wholehearted dedication to the mission of Truth For Life
Passion: Committed to excellent user experience across all major platforms and devices
Efficiency: Committed to clean, lean and documented code
Experience: 5+ years or shows strong proficiency in administering and developing for Microsoft SQL Server 2016+
Experience: 2+ years experience working with MySQL
Experience: 3+ years using Visual Studio or similar IDE for SSIS job or SSRS report development
Security: A security-first mindset in development of any environment or process
Judgment/Decision Making: Commitment to data-driven decisions with the help of research, user-testing, and experience.
Strategic skills: Establishes a strong testing methodology for any development to ensure success of any project
Independent: Able to manage multiple tasks and effectively meet deadlines without being closely managed
Resourceful: Readily adopts new tools and clever approaches to overcome difficulty
Adaptability: Easily adjusts to new conditions and welcomes challenges as opportunities
Team player: Willingly and reliably works in cooperation with and support of others
Innovative: Introduces new ideas and methods to meet new requirements or changing market demand
Assertiveness: Proactively offers suggestions, opinions, and openly asks questions
Tenacity: Highly persistent in maintaining or seeking to meet goals/objectives, determined to overcome obstacles
Are you interested in joining the team? The first step in applying with Truth For Life is completing our Topgrading assessment tool, which gives us a complete picture of your background and experience. The Topgrading tool is located here:
Applicants must complete the Topgrading assessment in order to be considered for this position. The position will remain posted until filled. Please email questions to: Mike Costlow.


---
Customer Service Representative (Full-time)
Primary accountabilities
Understand and embrace our desire to see unbelievers converted, believers established, and local churches strengthened.
Handle phone calls, e-mail, and postal mail from listeners in the U.S., Canada, and other countries.
Respond to listener communication in a professional, courteous, and prompt manner.
Process orders and donations.
Troubleshoot and assist customers with basic technical difficulties (i.e. downloading an MP3 file, troubleshooting online account setup, app download and installation, etc).
Update and maintain listener accounts in the constituent database.
Prioritize and organize daily projects based upon degree of importance and level of urgency.
Answer questions and help listeners find specific teachings and other resources.
Field listener feedback and prayer requests.
Actively seek to stay connected to ministry happenings through the daily broadcast, emails, and website features.
Essential skills and abilities
Excellent verbal and written communication skills with emphasis on phone etiquette.
Attention to detail and desire for quality service.
Proficient in Microsoft Office.
Proactive approach to learning and customer service.
Strong computer skills and experience with windows based systems.
Ability to type 70 words per minute.
Keen ability to actively listen and anticipate questions.
Ability to multi-task.
Ability to handle consecutive phone calls efficiently and effectively.
Additional desired skill
Bilingual English/Spanish would be a plus.
Some customer service or professional phone operator experience is preferred. Are you interested in joining the team? The first step in applying with Truth For Life is completing our Topgrading assessment tool, which gives us a complete picture of your background and experience. The Topgrading tool is located here:
Applicants must complete the Topgrading assessment in order to be considered for this position. The position will remain posted until filled. Please email questions to: Mike Costlow.
---
Communications Writer (Contract Position)
Mission
Write promotional and donor communications copy for Truth For Life. Copywriting entails a comprehensive understanding of Truth For Life's brand and the ability to write creatively, succinctly, and compellingly in the voice of the ministry. The Communications Writer will craft a wide variety of content including blog posts that promote the monthly book offers and other featured products, digital and print communications to both donors, online subscribers, and new followers, mobile app copy, web copy, outbound email copy, and social media copy. All written communications should be engaging, informative, reflect a comprehensive understanding of the subject matter, and, when desired, compel readers to respond to an offer. 
This is a part-time, contracted position.
Primary accountabilities
Read/review the two books offered each month by Truth For Life. 
Write a blog post summarizing and promoting each book (two blogs each month) 
Write on-air copy each month to promote each of the two books 
Write buck slip copy promoting each of the two books for use in Truth For Life's monthly mailing 
Write a brief description of each resource to be featured on the website 
Write five to six social media posts per week
Write donor communications copy
Write outbound email copy
Develop a comprehensive understanding of the Truth For Life brand - both visual and written
Leverage an extensive vocabulary and creative writing techniques to keep copy fresh and interesting each day
Write in a voice and length appropriate for the delivery medium and audience
Have specific weekly and daily times available for consultation, reviews, and communication
Work closely with the Communications Editor to ensure that all written work is grammatically, theologically and structurally correct
Essential skills and abilities
Capture the Truth For Life voice, tone, and personality through the written word.
Work independently to write high quality, creative, compelling copy on schedule.
Coordinate with the Communications creative team for initial direction in a monthly meeting and work in a team environment, being open to team input on written content improvement and changes.
Write copy that adds value to listeners, followers, subscribers, and donors.
Participate as a member of the team and make recommendations for continual improvement. 
Demonstrate excellent verbal and written communication skills.
Efficiently use standard online office products, such as the Microsoft Office suite, and also learn to effectively use Basecamp for project management.
Demonstrate a meticulous use of accurate grammar, sentence structure, and use of a sizeable vocabulary. 
To apply for this position, email Carolyn Reding (Communications Manager) your resume and a sample of your writing work.