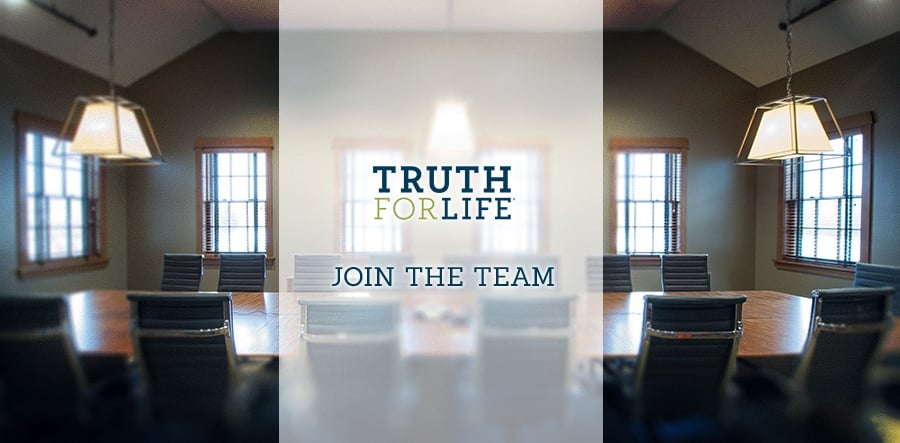 Truth For Life is an international radio and digital-based Bible-teaching ministry that teaches the truth of Scripture with uncompromising clarity and applicability to everyday life. The ministry exists to teach the Bible with clarity and relevance so that unbelievers will be converted, believers will be established and local churches will be strengthened.
A 501(C)3 non-profit organization, Truth For Life employs a team of skilled professionals (see our team) with broad experience in digital communications, operations management, marketing, project management and audio production.
Encountering a season of exponential growth, Truth For Life is adding experienced professionals to its staff and is seeking individuals to fill the following open positions:
---
Customer Service Representative
Primary accountabilities
Understand and embrace our desire to see unbelievers converted, believers established, and local churches strengthened.
Handle phone calls, e-mail, and postal mail from listeners in the U.S., Canada, and other countries.
Respond to listener communication in a professional, courteous, and prompt manner.
Process orders and donations.
Troubleshoot and assist customers with basic technical difficulties (i.e. downloading an MP3 file, troubleshooting online account setup, app download and installation, etc).
Update and maintain listener accounts in the constituent database.
Prioritize and organize daily projects based upon degree of importance and level of urgency.
Answer questions and help listeners find specific teachings and other resources.
Field listener feedback and prayer requests.
Actively seek to stay connected to ministry happenings through the daily broadcast, emails, and website features.
Essential skills and abilities
Excellent verbal and written communication skills with emphasis on phone etiquette.
Attention to detail and desire for quality service.
Proficient in Microsoft Office.
Proactive approach to learning and customer service.
Strong computer skills and experience with windows based systems.
Ability to type 70 words per minute.
Keen ability to actively listen and anticipate questions.
Ability to multi-task.
Ability to handle consecutive phone calls efficiently and effectively.
Additional desired skill
Bilingual English/Spanish would be a plus.
Some customer service or professional phone operator experience is preferred. Are you interested in joining the team? The first step in applying with Truth For Life is completing our Topgrading assessment tool, which gives us a complete picture of your background and experience. The Topgrading tool is located here:
Applicants must complete the Topgrading assessment in order to be considered for this position. The position will remain posted until filled. Please email questions to: Mike Costlow.


---
Content Manager
The mission of the Content Manager is to uphold our mission to teach the Bible with excellence, and reputation for clear and consistent Bible teaching. The Content Manager directly oversees the Content Creation team and owns the process of all new TFL Biblical content creation. This person has a primary responsibility for protecting and enhancing the teaching of Alistair Begg through the production of audio, written and video content.
Accountabilities
Ensure all delivery channels are filled with content and no channel is lacking in variety or quality.
Final content quality accountability is the Content Managers. All content must meet TFL's high standards of excellence and theological soundness.
Work with Communications, Station Relations and Digital teams to package and promote content to specific audiences and maximize distribution channels.
Encourage creative thinking among the content team, and mine the content archive to produce new formats of teaching.
Check references, spelling, grammar, writing style, design and images of all content with an ownership of TFL brand and style.
Support One Page Strategic Plan Priorities.
Create Key Performance Indicators to measure performance.
Develop a world-class content team through recruitment, coaching, training and project planning.
Key Competencies
Passion: Personally driven to spread the Gospel around the world and into the next generation
Judgment: Exceptional ability to analyze and provide meaningful insight and recommendations. Respects objective and subjective elements of decision making.
Team Player: Reaches out to peers. Overcomes we-they. Approachable. Leads peers to do what is best for the organization. Inspires positive team culture in which individuals rally behind common goals.
Creativity: Thinks outside the box and can generate original approaches to content creation and process improvements.
Experience: Comfortable providing critique based on past learning and deep knowledge of Truth For Life.
Empowerment: Trains and coaches others to enable production of excellent content needing minimal editing changes.
Goal Setting: Identifies goals and energizes the content team to achieve more than believed possible.
Excellence: Settles for no less than the best. Willing to work until a project is completed to exacting standards, no matter the effort.
Resourcefulness: Able to do more with less. Always looking to improve efficiency. Works smarter.
If you have questions, please contact Mike Costlow.


---
Business Manager
Position Overview
The Business Manager has the primary responsibility for TFL's accounting and human resources functions as follows:
Accounting functions include (1) all aspects of internal and external financial and tax reporting that comply with generally accepted accounting principles or international financial reporting standards; (2) the maintenance of accounting systems based on a comprehensive set of accounting procedures and internal controls; and (3) oversight of the budgeting process designed to both mitigate risk and insure the accuracy of TFL's reported financial results.
Human Resources functions include the development of a high-performance culture aligned with TFL's mission which emphasizes quality, productivity, goal attainment and compliance with TFL's standards of conduct. In collaboration with TFL's leadership team the Business Manager will be engaged in recruiting and the ongoing development of a superior workforce and will have a shared responsibility for the development of processes and related metrics supporting the achievement of TFL's goals through the effective use and cultivation of staff. The Business Manager will have oversight for employee compensation, benefit programs, as well as, the administration of related employee services, policies, and other programs and will assist and advise TFL's managers on Human Resources matters.
Desired Qualifications: The Business Manager should have a bachelor's degree in accounting or business administration and a minimum of 10 to 30+ years of progressively responsible experience with a significant company or non-profit organization. Preference will be given to candidates with the Certified Public Accountant or Certified Management Accountant designations.
Who should apply? Anyone and everyone who qualifies: Recent college graduate; successful business person looking for the next opportunity; men and women with CPA/HR experience. Is that you? We're looking for the right person to bring care, concern and management to these critical areas of the ministry. Let us know of your interest by applying today.
Working Conditions: Primarily in an office environment. Will be expected to travel as needed. Periodic weekend or evening work as circumstances require.
Supervises: Accounting staff
Reports to: Executive Vice President
If you have questions, please contact Mike Costlow.


---
IT Helpdesk
MISSION
Truth For Life (TFL) communicates the Gospel of Jesus Christ to the world. This evangelistic effort is enabled by various technologies that are supported by the Information Technology Helpdesk. As a key member of TFL, this position is responsible for providing front-line support to IT infrastructure including employee Macs and PCs, basic training and support, documentation and donor management software support.
ROLE DESCRIPTION:
In this role, you will provide first-level IT support for employees for their computer and any TFL-provided software by listening to the person and analyzing their requirements, ultimately working through a process to resolve their issue. You will also provide on-going maintenance and setup best practices to ensure that our employee hardware and software is running at its best. You may also be installing hardware and software solutions and coordinating with our IT vendor in submitting tickets for issue resolution. You will also provide first-level support for our donor management system for our employees. You may also run day-to-day procedures for our donor management system, mail file, database maintenance tasks, security system maintenance and more depending on skillset.
RESPONSIBILITIES:
Serve as the first point of contact for employees seeking help with an issue on their PC, Mac, mobile device, TFL-provided software or other TFL-specific hardware or services
Provide support through troubleshooting techniques, diagnostic questions, face-to-face meetings with the employee and other available or defined processes
Determine the best resolution for the issue and where needed, implement that solution or coordinate with IT Manager or TFL vendors to implement the solution
Meet internally defined SLA guidance and KPIs to provide timely and efficient support
Escalate issues or unresolved support requests as needed to the IT Manager
Record all open issues, status items and resolution documentation into tickets assigned in help desk solution
Utilize and maintain the helpdesk tracking software by analyzing issues for severity and timeliness and prioritizing responses as needed
Document internal IT procedures
Put together, with collaboration from IT manager, documentation and procedures for employees and IT staff on entering and maintaining tickets within the helpdesk ticketing and tracking system
Assist with onboarding of new users
Maintain inventory of all equipment, software and software licenses
Proactively provide feedback on frequent issues and suggestions for possible improvement with IT Manager and other teams
As part of growth for the role, may take on smaller development projects with SQL or .NET programming as appropriate
IT STRATEGY/GOVERNANCE
Manages small sized projects according to pre-defined budgets and schedules as necessary.
QUALIFICATIONS & REQUIREMENTS:
Basic Education Requirement: Bachelor's Degree in Information Systems, Business, Communications or related field
PREFERRED REQUIREMENTS:
2 years of relevant technical experience or demonstrated success in a help desk role
Experience working in and in support of a small to medium sized network of servers, desktop systems and communications devices using current technologies.
SKILLS:
Demonstrated knowledge of Windows desktop products and familiarity with Windows servers and networks
Demonstrated working knowledge of network protocols, server and desktop technologies.
Ability to organize and deliver training of basic IT concepts to users.
Ability to negotiate hardware/software service and technical support needs in conjunction with IT Manager.
Ability to manage multiple activities and tasks simultaneously.
Ability to communicate well throughout system outages, procedure changes and upgrades.
Well-developed verbal and written communications.
Customer-oriented and cool-tempered in all situations.
Experience with .NET programming and SQL a plus.
Experience with macOS and other Apple devices is a necessity.
WORKLOAD:
Evening and weekends work is required on occasion.
If you have questions, please contact Mike Costlow (mcostlow@truthforlife.org).