Due to low inventory, online quantity is limited to 1 copy.
Softcover 255 pgs - Just $3
In the beginning, way back at its birth,
God created the heavens and cooked up the earth.
Without a big-bang or a pop or a fizz—
out of nothing at all—He made all that there is!
There's no shortage of books that teach young children about the Bible—but an all-time favorite of the team at Truth For Life is My Big Book of Bible Stories by Phil A. Smouse. This delightful picture book retells seventeen well-known Bible stories using creative, engaging rhymes that children will find captivating and fun to hear.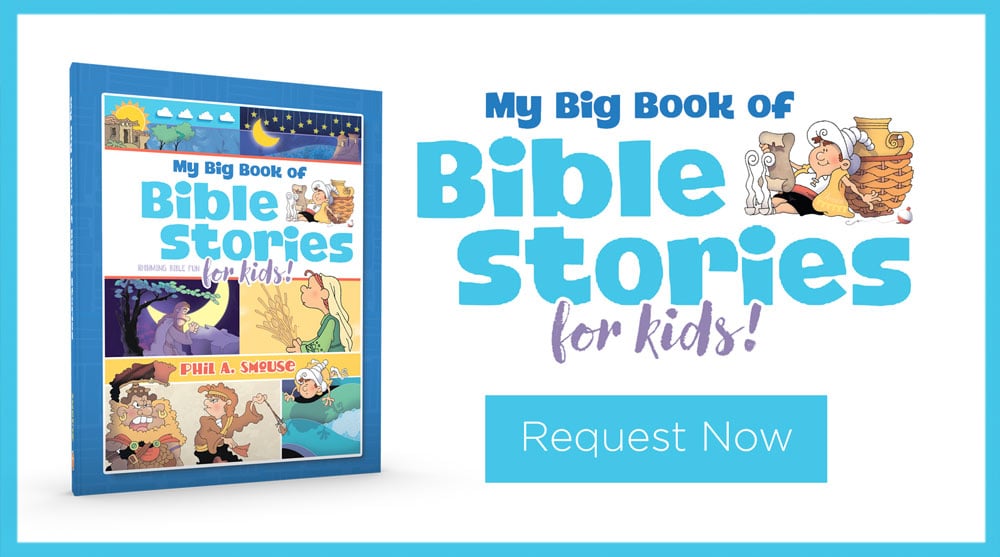 My Big Book of Bible Stories teaches about creation, Adam and Eve, Daniel and the lion's den, David and Goliath, the prodigal son, and Jesus and Nicodemus, to name a few. The stories are brief enough to hold your child's attention and memorable enough that their lessons will be retained for years to come.
If you're looking to introduce your children, grandchildren, preschool-age Sunday school class, or a young family you know to the truths of Scripture, this colorfully animated and biblically faithful collection of foundational stories is one you won't want to miss. In fact, Alistair Begg has shared this book with his own grandchildren!
Add My Big Book of Bible Stories to a child's library where it's sure to become an enduring favorite.
format: Softcover, 256 pages
sku: 32431